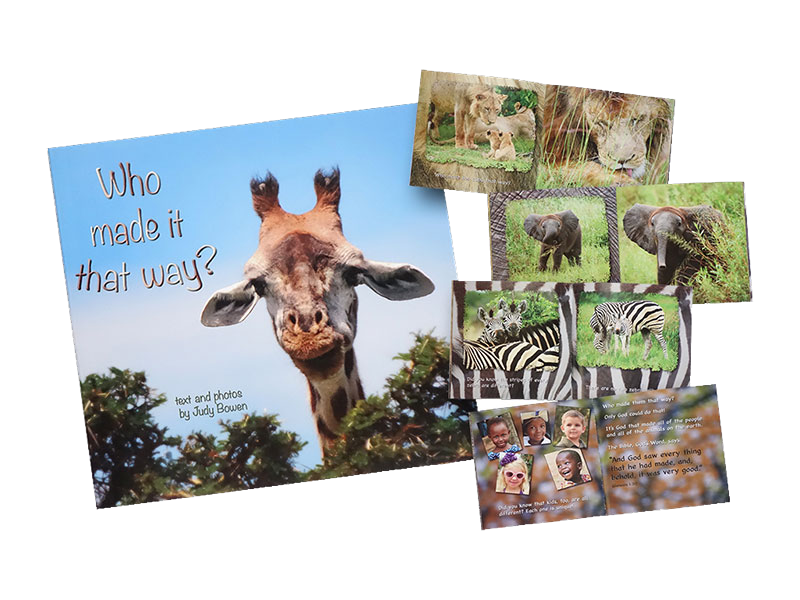 WHO MADE IT THAT WAY? / Qui l'a fait comme ça? 
Available in English and French (separate books.)
Soft cover, 7 x 7 inches, full color throughout, 32 pages.
Cost: $5.00 each.
An introduction to our great Creator,  this little book is full of  fun photos, and includes a guide for how to talk to young ones about how to know God personally.
Ordering information is below.
GOD CARES ABOUT YOU!  
For the young people of Togo and Ghana as well as anyone else who's interested in discovering God's provision through a look at some of the wonders of His creation in West Africa. At the end, the Gospel is presented for those who wish to know The Creator personally.
Available in French and English.
Soft cover, 38 pages, 5 x 7 inches, full color
Cost: $4.00 each or 3 for $10.00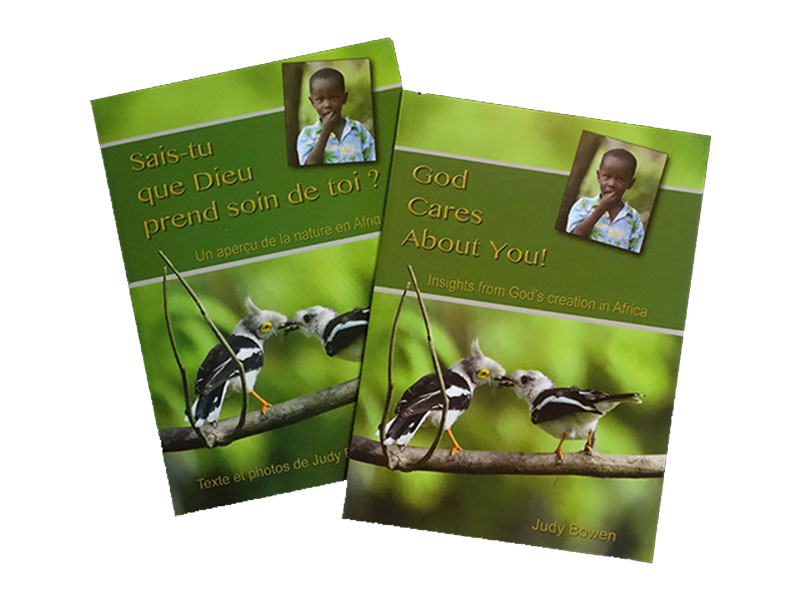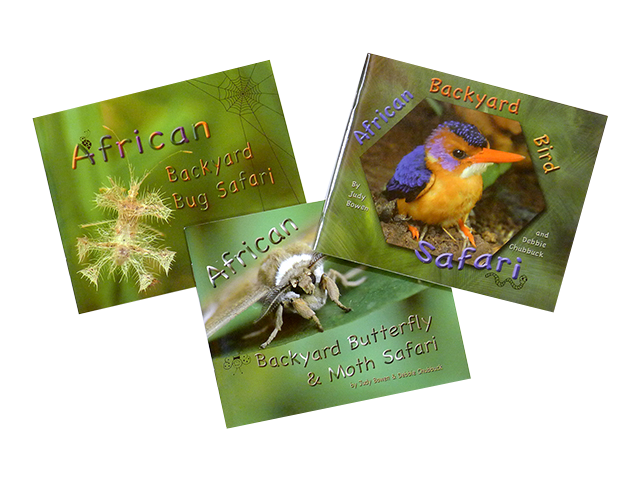 AFRICAN BACKYARD SAFARI SERIES
It is a joy to share the wonders of God's creation in these books! They were prepared with kids in mind; though I am finding that they are enjoyed by all.  The photography, formatting, and main page texts are my work; the line drawings, poetry, and intro/conclusions were added by my sister, Debbie. It was such a fun experience to do these together! We pray God will use these photos to move your heart to worship the Creator with us.
Series includes three titles:
African Backyard Bug Safari
African Backyard Butterfly & Moth Safari
African Backyard Bird Safari
Each book is 5.5 x 6.5 inches, soft cover, approximately 40 pages, full color throughout.
Cost is $4 per book or the set of 3 for $10.00.
Ordering information for all kids' books: 
We have secure ordering through our Facebook Page.
Purchase Now
Or you can order by mail:
Mail your check and a note with title & number of books desired to:
Vicki Ivester
29247 Haven Rd.
Jerseyville, IL 62052
Add $2.00 for postage & packaging for 1-2 books. For larger quantities, please e-mail Vicki with your request, and she will pack the books, send them off, and email you with the final amount to send to her. Her email address is ivester@frontiernet.net . Many thanks to Vicki, who has been distributing books for me from the USA since 2007.
If you prefer to pay by credit card, you can order from Books 'n' More at ABWE.org. The price is a bit higher that way, but the suggested donation helps with the cost of running the bookstore. (Go to ABWE.org for more information about the mission.)
If you have any questions, please email me at judybowen92@gmail.com .
GOD OF THE INFINITE, GOD OF THE INFINITESIMAL
This  coffee table book displays the Lord's awesome creativity, from the very large (solar eclipse) all the way down to the very small (water drops.) Our awesome God created everything in nature, and His attention to detail in nature surely assures us of His attention to the details of our hearts and lives. A gospel presentation is included in the introduction. Consider this book as a great gift to someone you want to encourage!
Hard cover, 9 x 7 inches, 120 pages; full color throughout.
Cost per book: $15.00
Ordering Information for GOD OF THE INFINITE, GOD OF THE INFINITESIMAL
We have secure ordering through our Facebook Page.
Purchase Now
Or you can order by mail:
Packaging & shipping:  $3 for the first book, and $2 for each additional book to the same address. This is subject to change with postal rates.
Make your check payable to:
Vicki Ivester
Send your book order, mailing address, and check by mail to:
Vicki Ivester
29247 Haven Rd
Jerseyville, IL 62052
If you order a larger quantity of books, please e-mail Vicki for information. For example, ordering a carton of 5, 10, or 20 copies sent by media mail decreases the shipping cost per copy. (ivester@frontiernet.net)
If you would rather pay by credit card, you can google the title of this book and you'll be taken to the ABWE bookstore. (Check out ABWE.org for more information about ABWE.)